QUICK FACTS ABOUTS UK
Location: Western Europe
Capital: London
Countries: England, Scotland, Wales and Northern Ireland.
Major Cities/ Counties: London, Birmingham, Manchester, Leeds, Newcastle, Glasgow, Edinburgh, Swansea and Cardiff.
Main Language: English
Climate: UK climate is one of the most unpredictable climates in the world.
Summers is between 18 c to 27 c
Winters is between -4 c to 10 c.
UK receives snow fall between Dec – Feb.
Economy: London is the world's largest international financial centre
UK is today the fifth largest economy in the world and the second largest in Europe.
Britain's aerospace industry is the second- or third-largest national aerospace industry depending on the method of measurement.
UK has the third-highest share of global pharmaceutical research and development. Of the world's 500 largest companies, 26 are headquartered in the UK.
The British economy is boosted by North Sea oil and gas production; its reserves were estimated at 2.9 billion barrels in 2015
GDP: Total: 2.619 trillion USD (2016)
Currency: Pound sterling (GBP £)
Area: Total: 242,495 km2 (93,628 sq. mi)
Water (%): 1.34
Distance from India: 9 hours by Flight
Density: 255.6/km2 (662.0/sq mi)
Time Zone: GMT (UTC); Summer (DST); BST (UTC+1)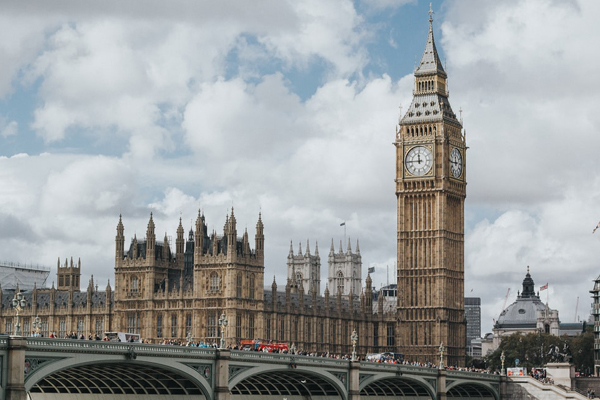 United Kingdom of Great Britain and Northern Ireland
England, Scotland, Wales, Great Britain refer to different 'parts of the UK. The British Isles includes many islands not even part of the UK. (England, Scotland, Wales, Great Britain, UK, British Isles.
Popularity: UK is now the second most popular destination for international students, behind the US.
QS World University Ranking says "Four of the top ten universities on the planet are in the UK"
Value for Money: The cost of degrees for an international student in the UK can be generally lower compared to the USA and other countries.
Fast – track courses: Because your degree will generally take less time to complete in the UK than in other countries, this will also save you money.
Research:  The UK undertakes 5 per cent of the world's scientific research and produces 14 per cent of the world's most frequently cited papers.
Flexibility: UK degrees can be tailored to your interests and often include specialised modules.
Teaching Methodology: The teaching and study methodology used in the UK give you the freedom to be creative and develop skills sets and confidence.
Employability: The UK is the home of English hence an ideal place to develop language skills and enhance employment prospects. Students in the UK enjoy a great lifestyle: beautiful countryside, historic sites, city life and music and culture. 
Satisfaction: 91 per cent of international undergraduates are happy with their experience in the UK
With over 100 universities offering various degree programs for students from the UK and around the world, there is no shortage of options.
Traditions & Culture: British literature, music, cinema, art, theater, comedy, media, television, philosophy, architecture and education are important aspects of British culture.
Food: British cuisine has traditionally been limited in its international recognition to the full breakfast, fish and chips, and the Christmas dinner. British cuisine has many regional varieties within the broader categories of English, Scottish and Welsh cuisine. Each has developed its own regional or local dishes.
Safety: Even before you leave your country, even before you decide on the university you want to head to, it might be worth finding out which is a safe city to study in the UK. While travelling, be aware of your surroundings at all times, and avoid exhibiting your assets. UK is a "safe and tolerant" place to study. By taking all the precautions you can, you can ensure you enjoy a peaceful time while in the UK.
Welfare: Welfare is vital for everyone. All the college and the universities provide a selection of training days on specific aspects of student support, including the safeguarding of young students, mental health issues, special educational needs and managing student accommodation and etc.
Health: It's important to look after your health when moving away from home for the first time. NHS (National Health Service) is just a call away for all your health (mental or physical) related issues.
Transport:  Urban rail networks exist in London, Manchester, Birmingham, Edinburgh, Glasgow, Cardiff, Belfast, Leeds and Liverpool. There are many regional and international airports, with Heathrow Airport in London being one of the busiest in the world.
Train:  There's a really efficient rail network across Britain. Anyone in full-time study qualifies for a 16-25 Railcard, which saves you a third on most journeys you make. It costs £30 a year, which should make it worthwhile, even if you only make occasional journeys.
Buses:  You can get lots of discounts with your weekly, monthly or annual passes, which will save you money throughout the year.
Coaches:  Coaches are a good choice for students, especially for long distance journeys.
Cycling:  If you can put up with the British weather, cycling can be a cheap and effective way to travel.
Driving:  If you want to drive in the UK, you'll need to first pass your driving test and get taxed and insured. Cars over three years old also need to pass an Ministry of Transport (MOT) test annually, to make sure it is still safe to drive.
Taxis:  In all cities around the country, you should be able to flag down a taxi easily if you're in a hurry.
MONEY MATTERS
International undergraduate and postgraduate tuition fees vary considerably, starting at around £10,000 and going up to £35,000 or more for medical degrees. At all levels, humanities and social sciences degrees tend to cost the least, while laboratory and clinical degree programs are markedly more expensive.
Combine these fees with the average cost of living in the UK, around £12,000 and the total average cost of studying in the UK comes up to at least £22,000 per year. Studying in the capital city, meanwhile, is likely to be significantly more expensive.
Under the UK immigration rules, you are legally permitted to work with the following restrictions: a maximum of 20 hours paid or unpaid work per week during term time for degree students. Hence, you can easily take care of your living expenses.
ARRIVAL & ACCOMODATION
Planning & Housing: Whilst you are staying in the UK, you will have a variety of accommodation options available to you. Your choices will depend largely on whether your college or university has halls of residence, what city you are located in, and the amount of your monthly budget. Various options includes Halls of Residence, Self- Catered Halls, Flats/ Houses.
Restricted items to bring to UK: Illegal drugs, offensive weapons, e.g., flick knives, self-defence sprays, e.g., pepper spray and CS gas, endangered animal and plant species, rough diamonds, indecent and obscene materials, personal imports of meat and dairy products from most non-EU countries
Welcome week: Welcome Week is your opportunity to make friends, learn more about studying at the university and living in the country. You will be invited to attend a number of events throughout Welcome Week – some of which are optional and others compulsory.
Travel to your institution: If you are staying near the university, there is shuttle service available. Else, you may choose to travel by trains or buses.
Opening a bank account: In order to open a UK bank account, you will need two documents: one to prove your identity and one to prove your address. This applies both in branch and online. Proving your identity is simple. You just need your passport.
VISA PROCESS
Basics: As a Tier 4 (General) Student, you will be required to show the funds for 1st year's tuition fee and living expenses.
Dependent's information: Dependents can accompany if the applicant is traveling for the post-graduate course.
Immigration on Arrival: Your passport will be checked when you arrive at a UK port or airport to make sure you're allowed to come into the country. It must be valid for the whole of your stay.
How to Apply:  3Z STUDY ABROAD Experts will help you.
EMPLOYMENT PROSPECTUS
The UK is highly globalized which means that the job market is competitive. Major industries in the UK include:
Services: Banking, Insurance and Business Services
Other important industries include: Metals, Chemicals, Aerospace, Shipbuilding, Motor Vehicles, Food Processing, Textiles and Clothing and Electronic and Communications equipment.
There are currently a number of shortage occupations in a variety of sectors, including:
Arts : artists, dancers, graphic designers and musicians;
Education : secondary school teachers (particularly maths teachers);
Engineering : electrical, mechanical and chemical engineers, civil engineers and product and process engineers;
Healthcare : nurses, medical radiographers, pediatricians;
Hospitality : Chefs,Managers,Service Staff
IT : software developers and systems engineers;
Science : biological scientist and biochemists, physicists and geologists;
Social care : social workers
Graduate schemes are available at many of the UK's large and multinational companies in sectors such as:
Banking, Engineering, Retail, Technology
In 2016 the accounting and professional services sector, and the public, engineering and industrial sectors had the most graduate vacancies. The highest graduate starting salaries were found in investment banking, law, and banking and finance.
According to The Guardian UK 300 2016/17 the most popular graduate employers include Google, Cancer Research UK, MI6, GlaxoSmithKline and Amazon.
List of Universities
Educational Institution
University of Derby
Middle Sex University
University of Teeside
BPP University
University of Law
University of Aberdeen
University of West England – Scotland
University of Winchester
Arts University Bournemouth
University of Lincoln
Coventry University
Twin Training International LTD – English language provider
Cardiff University
Durham University
Holland University
Huddersfield ISC University
Huddersfield London University
Kingston University
Lancaster University
Leeds University
Lincoln University
LJMU University
Royal Holloway University
Sheffield University
Strathclyde University
Surrey University
Sussex University
UCD University
Anglia Ruskin University
Birmingham City University
Brunel University
University of Plymouth
Robert Gordon University
Swansea University
University of Hertfordshire
University of Northampton
UA92 Academy
University of Portsmouth
University of Leicester
Birkbeck University of London
Queen Mary University of London
Royal Holloway University of London
The Courtauld Institute of Art
Royal Veterinary College, University of London
https://www.rvc.ac.uk/
University of Central Lancashire, UCLAN
University of Sunderland
London South Bank University
University of Hull
University of Reading
Aston University
University of Southampton