QUICK FACTS ABOUT AUSTRALIA
Location: Australia is an island nation that is located in the southern part of the Pacific Ocean. Australia is located to the southeast of the mainland Asian continent and to the southwest of North America
Capital: Canberra
Major Cities/ Countries: Sydney, Brisbane, Melbourne, Perth, Adelaide
Main Language: English
Climate: The climate varies widely due to its large geographical size, but by far the largest part of Australia is desert or semi-arid. Only the southeast and southwest corners have a temperate climate and moderately fertile soil. The northern part of the country has a tropical climate, varied between tropical rainforests, grasslands, and part desert.
GDP: 1.205 trillion USD
Currency: Australian dollar (AUD)
Government: The Australian Constitution creates a democratic legislature, the dual Parliament of Australia which consists of the Queen of Australia, and two houses of parliament, the Senate and the House of Representatives. The Constitution provides for the Commonwealth Government's legislative powers and allocates certain powers and responsibilities (known as "heads of power") to the Commonwealth government. All remaining responsibilities are retained by the six States (previously separate colonies). Further, each State has its own constitution, so that Australia has seven sovereign Parliaments, none of which can encroach on the functions of any other.
Area: 7.692 million km²
Distance from India: 10- 12 hours approx.
Population: 24.13 million
Time Zone: UTC + 9.30 (Australian Central Time Zone)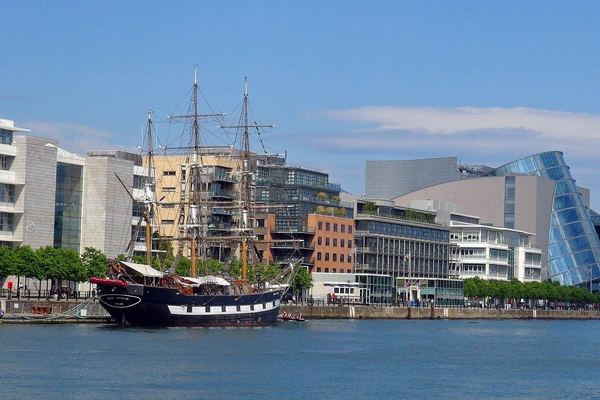 Australia is at present one of the most popular study destinations for students all over the world. It is the third most preferred country in the world where students apply for educational courses every year. The credit goes its inherent focus on offering quality-based and career-oriented education to the students. There are numerous renowned universities, and educational instates available for the students to help them find the right career path and to step forward into a world of opportunities.
The international students applying for the courses in Australia can choose from a vast range of more than 22,000 courses. They can easily apply for admission in their preferred stream from one of more than 1100 educational institutes present for the students. The country's well-managed and brilliant education system has made it rank 8th in the top Universities in 2019 for the U21 Ranking of National Higher Education Systems. The ranking is much higher than other countries offering educational benefits, including France, Germany, Norway, and Japan.
.
Over the last more than 50 years, more than 2.5 million international students have obtained education by opting for numerous courses in the institutions of Australia. The pass-outs of these universities and colleges are now placed in prestigious companies with viable packages. Numerous of them are also the owner of successful businesses. They are part of the global alumni network, which is making a significant impact around the world.
International students can obtain a wide variety of courses and premium education in numerous study areas. Some of the most preferred courses taken by students are arts and humanities, clinical, pre-natal and health, engineering and technology, life sciences, physical science, social science, and others
With over 100 universities offering various degree programs for students from the AUSTRALIA and around the world, there is no shortage of options.
Traditions & Culture: Australian culture is as broad and varied as the country's landscape. Australia is multicultural and multiracial and this is reflected in the country's food, lifestyle and cultural practices, and experience. Australia has an important heritage from its indigenous people, which plays a defining role in the cultural landscape. This diversity of influences creates a cultural environment in Australia that is lively, energized, innovative, and outward-looking.
Food: The meat pies and pasties had their connection to what was considered the staple foods of the 1800s:
beef, pork, or mutton (the meat of adult sheep)
flour, usually made into bread or damper, a dense, thick bread
Tea, considered a necessity, even when other items were scarce
Safety: While Australia is generally a safe place to live and study, it is still important that you take precautions to reduce the chance of an incident occurring. The 2011 OECD Better Life Index rated Australia 9.3 out of 10 for safety, one of the highest ratings awarded to any country. Following your common sense and best practices will ensure you remain safe and healthy, whether you are handling emergencies, personal and home safety, or natural elements such as sun, water, and fire.
Welfare: Universities provide free and confidential support and assistance to help students develop practical skills to better manage time, money, and personal issues. Officials help students develop strategies to concentrate on their studies and get the most out of university life.
Health: Healthcare in Australia has been steadily improving over the last ten years. Visitors in Australia under a student visa are required to take out Overseas Student Health Cover (OSHC) during their stay.
Transport: The transport options available in Australia include buses, trains, trams, and ferries. Your access to these transport services will vary depending on where you live. You will also be able to access private and public car services from taxis to hired limousines, available to take you from door to door. If you hold a current driver's license in your home country, you might be able to drive in Australia without sitting for any further driving tests. But remember that many state and territory governments require you to get an Australian driver's license if you are there for more than three months.
MONEY MATTERS
Under Graduate Studies: A$ 20,000 – A$ 30,000 per year
Post Graduate Studies: A$ 22,000 – A$ 30,000 per year
Living Expenses as per the Australia High Commission visa guidelines: 19,830 A$ per year
ARRIVAL & ACCOMODATION
Planning & Housing: Whilst you are staying in Australia, you will have a variety of accommodation options available to you. Your choices will depend largely on whether your college or university has halls of residence, what city you are located in, and the amount of your monthly budget. Various options include Halls of Residence, Self-Catered Halls, Flats/ Houses.
Welcome week: Welcome Week is your opportunity to make friends, learn more about studying at the university and living in the country. You will be invited to attend a number of events throughout Welcome Week – some of which are optional and others compulsory.
Travel to your institution: f you are staying near the university, there is a shuttle service available. Else, you may choose to travel by trains or buses.
Opening a bank account: In order to open an Australian bank account, you will need two documents: one to prove your identity and one to prove your address. This applies both in-branch and online. Proving your identity is simple. You just need your passport.
VISA PROCESS
Basics:
Visa Requirement
Good academics
IELTS Score as suggested in the English language requirement
Finances to support education as per the living expenses guideline given under living expenses
Genuine Intentions to Study in Australia
Visa processing time for a visa varies from 4 – 12 working weeks.
Dependents information: A student visa would usually allow you to take your family members as dependents on your student visa. This is defined as:
A spouse or partner (including same-sex partners) with who you have been living for 12 months.
Your, or your partner's children, under 18 or who are still in continuous education (i.e. studying A-levels).
Immigration on Arrival: Your passport will be checked when you arrive at the airport to make sure you're allowed to come into the country. It must be valid for the whole of your stay.
How to Apply: 3z STUDY ABROAD Experts will help you.
EMPLOYMENT PROSPECTUS
Employment prospectus
Part-Time: $ 15 + per hour
Can you work? Yes
What kind of work can you do? Many companies hire international students with no questions asked, especially if you are looking at retail, hospitality, tourism, agriculture, and administration jobs. You could also get an apprenticeship with a tradesman, or you may even be able to find a job at the university that you are attending.
How many hours can you work?40 hours per fortnight during studies; 40 hours per week during vacations.
Do you need prior approval when you work? No
About Tax? In order to work in Australia, international students need to get a Tax File Number (TFN). Students who wish to work during their studies in Australia should first visit the Australian Taxation Office to get their TFN.
Full Time:
Type of Visas
The Temporary Graduate visa (subclass 485) allows graduates to work in Australia temporarily after they finish their studies. It has two streams: the Graduate Work stream and the Post-Study Workstream.
The Graduate Work stream is for international students who graduate with skills and qualifications that relate to an occupation considered in demand in the Australian labor market, as indicated in the Skilled Occupation List (SOL). A visa in this stream is generally granted for 18 months.
The Post-Study Work stream offers extended options for working in Australia to eligible graduates of a higher education degree. Under this stream, successful applicants are granted a visa with a visa period of two, three, or four years' duration, depending on the highest educational qualification they have obtained.
How to find a job?
Career Services
Your university will offer a range of career support services to students, including some for international students such as yourself. They will be able to help you with your job search, resume, and applications. You should also be able to attend workshops that focus on skills that will help you to improve your employability, such as interview and communication skills. Your university may also offer special career events, such as expos or lectures where you can hear from employers in your area of study.
Networking
Keeping in touch with your classmates and instructors may be vital in finding a job, especially if they have connections to a particular employer and can recommend you. This way you will be more likely to hear about employment opportunities and receive advice about working in your field. A good way to start networking is to join clubs and societies on campus that are related to your field; this will also help you to gain valuable skills such as effective communication, teamwork, and accountability.
Average Salary?
A$ 45, 000- A$ 55, 000 per annum
List of Universities
Educational Institution
Curtin University
Victoria University
University of Southern Queensland
Edith Cowan University
Charles Sturt University
Western Sydney University
University of Newcastle
University of Canberra
La Trobe University
Federation University
Monash University
Australian National University
University of Queensland
Queensland University of Technology