QUICK FACTS ABOUT GERMANY
Location: West-Central Europe
Capital: Berlin
Major Cities/ Counties: Munich, Berlin, Cologne, Frankfurt, Dusseldorf, Stuttgart, Duisburg, Essen
Main Language: German
Climate: The majority of the country has a cold or severely cold winter climate, but southerly areas are warm in summer.
Economy: GDP: $3.980 trillion Currency:(€) (EUR)
Government: Germany is a democratic, federal parliamentary republic, and federal legislative power is vested in the Bundestag (the parliament of Germany) and the Bundesrat (the representative body of the Länder, Germany's regional states). There is a multi-party system that, since 1949, has been dominated by the Christian Democratic Union (CDU) and the Social Democratic Party of Germany (SPD). The judiciary of Germany is independent of the executive and the legislature.
Area: 357,168 km2
Distance from India: 7.5 hours approx
Population: 82.67 million (2016)
Time Zone: CET (UTC+1)
Unlike many other countries, no tuition fees are charged for undergraduate degrees at public universities in Germany.
Studying in Germany not only comes for free, but you can also do it in English if your German language skills are not so good.
Studying at a German university could be your first step towards a career in Germany. Because German companies are looking for university graduates in a variety of sectors – especially in the fields of engineering, medicine, the life sciences and information technology.
Technical universities or hochschule, as Germans call them; focus mainly on technology and engineering valuing not only the art of theory but also the art of practice. In fact, the emphasis in these institutions is on the practical skills their students will gain during their studies.
Life in Germany is very good. You will not only find Europe's most dynamic economy. Germany is also a very safe country, with a high standard of living, a rich cultural history and a very diverse population.
Student life in Germany thrives on adrenaline and curiosity. German people are friendly but give you privacy; mutual respect and order are part of the daily routine; and cultural diversity is worth exploring in every inch of the country, as it makes you feel part of one entity rather than a total stranger.
Finally, after studying in Germany, you'll have the chance to stay on and seek work after you graduate. The law allows international graduates to stay for an additional 18 months to seek work, and you may even end up staying longer, if that is what you wish.
With over 100 universities offering various degree programs for students from the Germany and around the world, there is no shortage of options.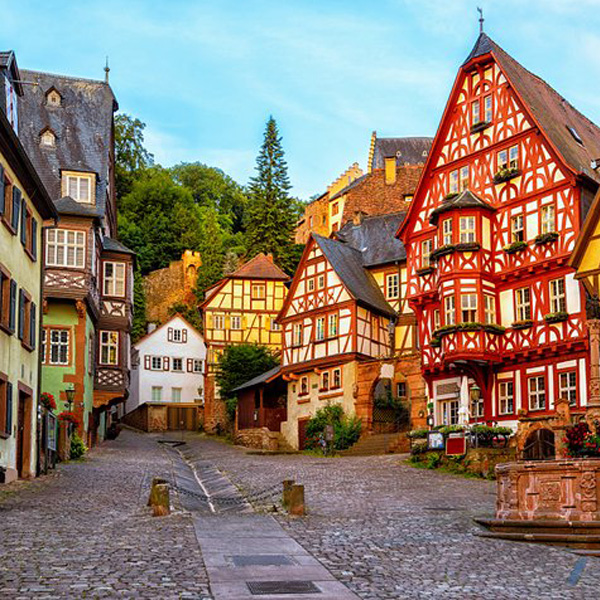 Traditions & Culture : German culture has spanned the entire German-speaking world. From its roots, culture in Germany has been shaped by major intellectual and popular currents in Europe, both religious and secular. Christianity is the dominant religion, with 65 to 70 percent of the population identifying themselves as Christian. Germany celebrates many of the traditional Christian holidays, including Christmas and Easter.
Food : Germans love rich, hearty cuisine, though each area of Germany has its own definition of what a traditional meal looks like. Pork is the most consumed meat, according to the German Food Guide. Bratwurst, a form of sausage, is closely associated with German food. Cabbage, beets, and turnips are commonly incorporated into meals, as they are native to the region, and potatoes and sauerkraut are also stars of German cuisine.Beer is the most popular alcoholic beverage, and the country is known as the birthplace of a number of beer varieties, including Pilsner, Weizenbier (wheat beer) and Alt.
Safety : There are many reasons why you can feel at home in Germany: It is recognized as one of the most peaceful countries in the world. Germany has largely been untouched by serious natural disasters. Obviously, every city and every neighborhood are different, and broad generalizations may not reflect your personal experience or your feelings of safety. However, as a whole, Germany is a country with a low crime rate, and an even lower one if you are only looking at violent crimes.
Welfare : Welfare services provide information and advice in relation to students' social and economic situations. They offer guidance and help students make decisions, and thereby help achieve socio-political and educational policy goals.46 Studentenwerkeis on such organization which offer social welfare advice for students.
Health : Germany's healthcare services and social security scheme have a good reputation. Healthcare in Germany is divided into two sectors, the gesetzlicheKrankenversicherung (public health insurance) and the private Krankenversicherung (private medical care).All Germans and legal residents of Germany are entitled to healthcare. In fact it has become illegal not to be insured, and having some sort of medical insurance is thus a requirement when planning to study in Germany.
Transport : Germany's rail system is operated almost entirely by Deutsche Bahn (www.bahn.com), with a variety of train types serving just about every corner of the country. Also, long-distance bus is a pretty new way of travel in Germany. The two biggest companies are MeinFernbus/Flixbus* and Postbus*, both offering Berlin–Munich starting from 22 EUR / 17 EUR. The travel time is a bit longer, though: 8 hours. And finally, the probably fastest way: flying. Also not necessarily the most expensive. Ryanair just opened a new base in Berlin-Schönefeld, offering a direct flight to Cologne, and then there is Air Berlin with many national routes and also Germanwings.
MONEY MATTERS
Cost of Living in Germany:
You should expect to pay the following expenses during your stay in Germany:
living expenses (rent, food, clothing, books, telephone, …)
semester contribution
health insurance
possible tuition fees
Students require around 800 Euros per month to cover the cost of living in Germany.
ARRIVAL & ACCOMODATION
Planning & Housing : When planning to study in Germany, you have to take into account that Germany is a different kettle of fish altogether. Dormitories in Germany aren't administered by the universities themselves. Instead most universities in the country work closely with different housing providers to house the students.
Restricted items to bring to Germany:
The import of certain plants is prohibited into Germany (i.e. potatoes, vines, wineleaves etc.). Import of fresh meat and meat products from certain countries is not allowed.
Welcome week : Welcome Week is your opportunity to make friends, learn more about studying at the university and living in the country. You will be invited to attend a number of events throughout Welcome Week – some of which are optional and others compulsory.
Travel to your institution : If you are staying near the university, there is shuttle service available. Else, you may chose to travel by trains or buses.
Opening a bank account : In order to open a bank account in Germany, you'll need the following documents:
• your passport
• student registration
VISA PROCESS
A valid passport.
The confirmation of application from the university (applicant visa) or the notice of admission from the university (student visa).
Evidence of previous qualifications and work experience.
Proof of adequate funds for living expenses (proof of financial resources).
Health insurance coverage.
Visa processing time : For visa varies from 4- 6 working weeks.
Dependents information : Not allowed on student VISA.
Immigration on Arrival : Immigration on Arrival: Your passport will be checked when you arrive at the airport to make sure you're allowed to come into the country.
It must be valid for the whole of your stay.
How to Apply: 3z STUDY ABROAD Experts will help you.
EMPLOYMENT PROSPECTUS
Can you work? Yes
What kind of work can you do? Many companies hire international students with no questions asked, especially if you are looking at retail, hospitality, tourism, agriculture, and administration jobs. You could also get an apprenticeship with a tradesman, or you may even be able to find a job at the university that you are attending.
How many hours can you work? 20 hours per week during studies; 40 hours per week during vacations.
Do you need prior approval when you work?No
About Tax? One pays income tax on all the income for one calendar year. Filing for taxes can be advantageous for students too. The negative tax can be used later to get a tax rebate. Several items like tuition fee, travel allowances, mobile bill etc can also be claimed!
Full Time:
Successful graduation at a German university opens a range of opportunities in the German job market for international graduates. Before your resident permit expires, you have to take the next step that is to apply for a resident permit, which will allow you to stay and then work in Germany. Once you have the permit, you are ready to explore the innumerable possibilities that await you in the country.
Type of Visas
Residence Permit for work after study in Germany:
Non-EU students are eligible for residence permits that would enable them to find a job matching their line and level of studies. Students need to follow two steps for the permit:
Step 1–Residence permit while you are looking for a job: Once you are done with your studies, you may not find a job almost immediately. This permit will allow you to stay in Germany for a period of up to 18 months during which you can find a job that mirrors your qualifications. You can take up almost any job to support yourself and sponsor your job search.
Step 2 –Residence permit to take up employment: When you get a job offer in your chosen field of study, you have two options before you: (a) apply for a German resident permit or (b) opt for the EU Blue Card. Both the permits are meant for a special purpose and you have to select carefully.
How to find a job?
University services: Many of the 400 or so universities in Germany offer career services which will help you get a foot on the career ladder. These usually supply advice on choosing a career or help with how to apply, but may also provide seminars on public speaking, presentation skills or self-assurance. If you are not sure what documents you need to apply for a job in Germany, you can discuss your application directly with a member of staff of the career service. In addition, career services frequently broker contacts with companies by holding job fairs or recruiting days. Some universities also work with the local employment agency when advising graduates. Some of these local agencies offer a range of services specially geared to academics.
Local employment agencies: The employment agency in the town where you study will help you in your search for a job vacancy. In addition, you will be able to find out all kinds of information about the world of work in the agency's professional information center. It is also a good idea to register directly on the Federal Employment Agency's Job Exchange.
Tips on job-hunting:
Various strategies could be of help to you in your search for a job:
Get active yourself and look for job offers that suit you: you can also submit your profile to the Federal Employment Agency so that interested employers can contact you. You will also find job offers in newspapers or on the Internet.
The Job Listings will provide you with an overview of job vacancies in Germany.
Came across an interesting employer while hunting around? Don't hesitate – apply for a job speculatively.
Internships or trainee posts offer you the advantage of getting to know a company and acquiring your first professional experience.
The Federal Employment Agency Job Exchange is not the only place where you can hunt for internships or trainee posts; you might also find some in other job portals or on company Web sites. Whatever the case, it is always an advantage to build up networks of contacts in your specialty during your studies which you can then look to when hunting for a job.
Average Salary?
€35, 000- €45, 000 per annum
List of Universities
Educational Institution
Wildau Foundation Programme
Eurasia
Cologne Business School
GISMA Business School
ISL
IUBH
SRH University
KLU – Kuhne Logistics University
Berlin International College
Jacobs University Bremen
Macromedia University of Applied Sciences
UMCH
EU Business School – campuses in Geneva and Montreux, Barcelona and Munich.
European University Munich
Lancaster University Leipzig