QUICK FACTS ABOUT IRELAND
Location: Western Europe
Capital: Dublin
Major Cities: Dublin, Cork and Limerick
Main Language: English and Irish
Climate :Overall, Ireland has a mild but changeable oceanic climate with few extremes. The climate is typically insular and is temperate avoiding the extremes in temperature.
Economy
GDP: 61,606.48 USD (2016)
Currency: Euro (€)
Government: The structure of the Government of Ireland is regulated fundamentally by the Constitution of Ireland. The Government is headed by a prime minister called the Taoiseach. The deputy prime minister is called the Tánaiste, and is nominated by the Taoiseach from among the members of the Government.
Area: 84,421 km2 (32,595 sq mi)
Distance from India: 9 hours flight approx.
Population: 4.595 million (2013)
Time Zone: UTC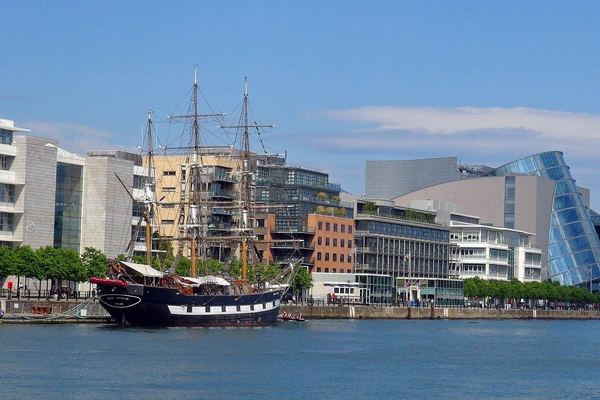 1 year master's degrees.
Is currently home to 9 of the world's top 10 pharmaceutical companies.
Scholarships up to 100% are available for deserving students.
Ireland is the largest exporter of software in the world and rates amongst the top five producers of pharmaceuticals and fine chemicals globally. The ever-increasing demands of this high technology economy have ensured that the higher education technological sector offers the highest and most advanced standards and opportunities available today.
Young vibrant population, with 40% of the population under the age of 25;
The Irish Government invests over 782 million annually in research in Ireland's higher education institutions. The impact of this funding is that Ireland's higher education institutions now lead the world in an increasing number of fields.
Ireland is also where some of the world's biggest and best companies like Google, Facebook, HP, Accenture, Apple, Amazon, Uber, Pfizer, Abbott Laboratories, Tesco and etc have located key, strategic research facilities.
In Ireland, you'll find a unique ecosystem that sees academic researchers working hand-in-hand with small home-grown and start-up companies in partnership with some of the most powerful multinationals on the planet.
With over 100 universities offering various degree programs for students from the IRELAND and around the world, there is no shortage of options.
Traditions & Culture: The culture of Ireland includes customs and traditions, language, music, art, literature, folklore, cuisine and sports associated with Ireland and the Irish people. For most of its recorded history, Ireland's culture has been primarily Gaelic. The country has its own language, music is known all over the world, they have produced literary greats and our theatre, arts and folklore are known all over the world.
Food: Irish food is known for the quality and freshness of its ingredients. Most cooking is done without herbs or spices, except for salt and pepper. Foods are usually served without sauce or gravy. The staples of the Irish diet have traditionally been potatoes, grains (especially oats), and dairy products. Potatoes still appear at most Irish meals, with potato scones, similar to biscuits or muffins, a specialty in the north.
Safety: Whilst Ireland is considered to be a relatively safe place to live, students are advised to exercise caution when walking home alone in the evenings, particularly in the more urbanized areas. From November through to February it can get dark as early as 4.30pm. The colleges themselves will be able to brief students on the personal safety issues relative to their particular area. Despite increasing urbanization and the difficulties historically associated with the conflict in Northern Ireland, personal safety is generally very high and there is a low level of violent crime.
Welfare: The Student Welfare department is available in all the institutions across Ireland. They provide information to students about a range of concerns including; mental well-being, crisis pregnancy, sexual health awareness, suicide intervention and non-academic issues. Dedicated officers can also provide the students with information about a number of additional support services both locally and nationally and help connect students to these organizations, should they need the support.
Health: The Irish healthcare system is divided into public and private services. Both services are provided by GPs and the Health Service Executive (HSE) is responsible for providing public and community health services. There are three types of hospitals: HSE hospitals, voluntary hospitals and private hospitals.
Transport:
Dublin and Belfast have comprehensive local bus networks, as do some other larger towns.
The Dublin Area Rapid Transport (DART) rail line runs roughly the length of Dublin's coastline, while the Luas tram system has two popular lines. Taxis tend to be expensive Uber is in Dublin and is expected to spread elsewhere
Drive:The big decision in getting around Ireland is to go by car or use public transport. Your own car will make the best use of your time and help you reach even the most remote of places
Bus: The bus network, made up of a mix of public and private operators, is extensive and generally quite competitive – although journey times can be slow and lots of the points of interest outside towns are not served.
Rail: The rail network is quicker but more limited, serving only some major towns and cities. Both buses and trains get busy during peak times; you'll need to book in advance to be guaranteed a seat.
MONEY MATTERS
UG: € 10, 000 – € 15, 000 approx
PG: € 12, 000 – € 20, 000 approx.
Living Expenses: On average a student will spend approx. €10,000 per year depending on location and lifestyle.
ARRIVAL & ACCOMODATION
Planning & Housing: College students have a wide choice when it comes to accommodation. Some students choose to stay in on-campus accommodation, which is available in many colleges. On-Campus accommodation is always in demand it can be quite expensive and it is difficult to find.
Students who want to be totally independent choose self-catering, rented accommodation. Students pay their rent monthly and in advance.
Some students choose to live with a host family in their home. This way, you have your own independence but still have the home comforts (and some rules) as well as a family to help you settle in to a new way of life in a new country.
Restricted items to bring to IRELAND: Certain goods cannot be imported to Ireland or can only be imported under license. The main items that cannot be imported or must be imported under license are:
• Firearms
• Ammunition
• Explosives
• Offensive weapons
• Indecent or obscene material (books, periodicals, prints and video recordings)
• Plants or bulbs
• Live animals or dead animals (including cats and dogs)
• Birds or poultry
• Endangered species
• Meat and meat products
• Hay or straw (even if used as packing)
• Drugs
Welcome week: Welcome Week is your opportunity to make friends, learn more about studying at the university and living in the country. You will be invited to attend a number of events throughout Welcome Week – some of which are optional and others compulsory.
Travel to your institution: If you are staying near the university, there is shuttle service available. Else, you may choose to travel by trains or buses.
Opening a bank account: In order to open an Irish bank account, you will need two documents: one to prove your identity and one to prove your address. This applies both in branch and online. Proving your identity is simple. You just need your passport.
VISA PROCESS
Basics: You will be required to show the funds in the form of various savings to cover the expenses of first year of studies and the further progression.
Dependents information: Not allowed on student visa.
Immigration on Arrival: Your passport will be checked when you arrive at the airport to make sure you're allowed to come into the country. It must be valid for the whole of your stay.
How to Apply: 3z STUDY ABROAD Experts will help you.
EMPLOYMENT PROSPECTUS
Part Time:
Can you work? Yes
What kind of work can you do? There are various part-time jobs available in all the sectors across hospitality/catering to call centre to banking and finance and etc. With few exceptions, it is very unlikely that you will find a part-time job related to your course of study.
How many hours can you work? 20 hours per week during studies; 40 hours per week during vacations.
Do you need prior approval when you work? No
About Tax? You will normally start to pay tax from your first payday. The amount of tax you pay depends on your level of pay and the amount of your tax credits.
Full Time:
Employment Permit System
Work permit
Work permits are issued for up to 2 years. Generally the salary must be €30,000 or more and the employer must have carried out a labor market test. The cost for a 2 year work permit is €1000. After 12 months working in the country, work permit holders can apply for their family members to join them.
Green card permit,Green card permits are issued for jobs where the salary is over €60,000. Green card permits are also issued for certain jobs where the salary is between €30,000 and €59,999, for an up-to-date list of eligible visit: www.enterprise.gov.ie. There is no labor market test. There must be a job offer of 2 or more years.
Spousal/Dependent work permits
Spousal/Dependent work permits are issued to spouses or dependents (who came to Ireland before they were 18 years of age). If the main work permit holder was granted their work permit before 1st June 2009:
• There is no labor market test
• There is no fee for the work permit
• There are no ineligible jobs
If the main work permit holder was granted their work permit after 1st June 2009, then the spouse or dependent will have to apply for a work permit in their own right which means
• There is no labor market test
• There is no fee for the work permit
• There are no ineligible jobs
How to find a job?
You can contact your Local Employment Service (LES)
You can check local and national newspapers: The Irish Times and The Irish Examiner (job supplement on Fridays), The Irish Independent (job supplement on Thursdays), The Sunday Independent and The Evening Herald.
Use personal contacts, for example, relatives or friends who may know of current vacancies.
You can also check the internet for details of current vacancies – here is a sample of some websites for job-seekers:
• www.irishjobs.ie
• www.jobfinder.ie
• www.monster.ie
• www.hireland.ie
• www.jobs.ie
• www.findajob.ie
• www.activelink.ie/community-exchangeAverage Salary?
€25,000- €30,000
Useful Links
• http://www.hse.ie/
• http://www.livinginireland.ie/
• https://housinganywhere.com/
• http://www.educationinireland.com/
• http://www.citizensinformation.ie/
• https://www.djei.ie/
List of Universities
Educational Institution
DIFC
https://www.difc.ie/
University College Dublin
https://www.ucd.ie/
Apollo Language Centre
https://apollolanguagecentre.com/
Limerick Institute of Technology
https://lit.ie/
Royal College of Surgeons, Ireland RCSI
https://www.rcsi.com/dublin