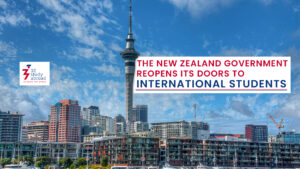 The New Zealand government has updated the after-study work rights of international students. Students who hold, or have held, a visa to study in New Zealand and have been nominated by their education provider may be eligible for an exemption In the case of students on a student visa who are nominated by their education provider and possess New Zealand study visas.
Running out of time? The highlights are as follows:
Students entering New Zealand in the coming weeks will be granted an exception to the border restrictions
Studying in the United States will be available for international students from 31 July 2022 onwards
New rules limit the number of post-study work permits international students can obtain and the eligibility of non-degree students to work following their studies if their credentials match the jobs on the "Green List" of highly sought-after occupations.
The New Zealand government says international education will resume in full on 31 July 2022 as immigration officials prepare to process student and visitor visas. As a result, the government is now ahead of the October timeframe it had previously announced. A border exception will also allow 5,000 students to enter the country when their visas are approved. Applicants in this group are already awaiting visas. Post-study work rights and financial resources requirements are becoming stricter in New Zealand for international students.
Rights to work post-study: New guidelines
As part of the announcement, the government also explained how international students can work post-study in the future. Students who graduate from degree-level programs will still have the right to work after graduation. The new Green List will only allow non-degree students to work if their qualification relates to an occupation on the list. Labour market skills shortages are reflected in the latter categories. The Green List contains occupations that students are required to work in. Those with highly skilled skills who intend to migrate to New Zealand can apply for the Green List. In an effort to attract talent in engineering, technology, industry, and health, the government plans to promote entrepreneurship and facilitate investment post-study employment period for graduate students is three years.
The application for a second work permit is not permitted for students. In a statement, the government stated, "This is to ensure that people are not able to work in New Zealand for an extended period without an Accredited Employer Work Visa, which requires employers to see if a New Zealander is suitable for the position."
Financial resources will be needed by students
Besides the 5,000 students in cohort four, international students must now show they have sufficient funds for living expenses in New Zealand. Students in higher education and English-language programs will need to demonstrate that they have NZ$20,000 per year, while students in primary and secondary education will need to demonstrate that they have NZ$17,000. Regardless of the level of study, the old rules required NZ$15,000 per year. It is also important that students pay the entire tuition fees for their first year (or for their first program if it is shorter) upfront. It is also necessary for students to have a NZ$5,000 deposit to transition into a work permit.
Taking steps to rebalance
In order to stem the flow of low-skilled migrants into the country, the New Zealand government has instituted immigration reforms that will affect new international students.
In summary, international students are welcome to study in New Zealand in any field and have a great time – but students whose studies align directly with the needs of the economy will have a better chance of obtaining employment or immigration.
What other restrictions exist?
It is required for travelers to exhibit proof that they have been fully vaccinated against COVID-19 before entering New Zealand. A vaccination certificate can be either electronic or physical. Additionally, they need to fill out the New Zealand Travel Declaration upon entry. After arriving by air, travelers will need to undergo a rapid antigen COVID-19 test within a day and a follow-up test on the 5th or 6th day. A COVID-19 test prior to departure has been waived in the country. Although masks are no longer mandatory in public settings, they must still be worn indoors.
Accepted Proof of Vaccination
You can submit either an electronic or paper version
If you have received 1 or two vaccinations (the dose depends on the vaccine) then you must state it in your application.
Details should include your name, the vaccines you received, the agency who vaccinated you, the vaccination site, as well as the date when all doses of the primary vaccination were administered.
The Minister of Education, Hipkins, invited international students back to the country, saying "We are here to welcome them back." He explained that New Zealand is a special place. "Aotearoa and its culture provide international students with life-changing experiences along with excellent academic standards."He praised New Zealand for providing students with safe and friendly environment where they could learn something new and different. The minister also stated that the delegation would engage the international education community, promote academic and cultural exchange, and further research collaboration.